Congressional Veteran Commendation Program
About the Congressional Veteran Commendation (CVC)
The Congressional Veteran Commendation is a nominations-based program designed to recognize the wartime sacrifices and peacetime community involvement of residents of the 31st Congressional District of Texas. Honorees are exceptional Americans in every way.
The 2020 CVC honorees will be announced and recognized by Congressman John Carter at a special ceremony at 10 a.m. on Oct. 17, 2020, at Texas A&M University - Central Texas in Killeen.
Eligibility Requirements
Veteran must currently reside in the 31st Congressional District of Texas. To verify, please visit www.house.gov and enter the veteran's ZIP code in the "Find Your Representative" box.
Veteran was active duty in the United States armed forces or was a reservist called to active duty.
Veteran retired from the United States armed forces or was honorably discharged.
Nomination Instructions
Please send the following items, in one cohesive package, to 1717 North IH-35, Suite 303, Round Rock, Texas, 78664 by Aug. 7, 2020:
This nomination form, completed in its entirety. The nomination form can be found at the bottom of this page. 
A 1–2 page letter, addressed to Congressman John Carter, which details why you believe the nominee should receive the 31st District's Congressional Veteran Commendation. The letter should contain as much information as possible about the veteran's heroism while in the military and community involvement thereafter.
A current photo of the veteran
DD-214
Copies of photos, military records, news clippings and other two-dimensional memorabilia that help you to tell the story of the veteran's military and community service. These items are considered supplemental and are not required; should you choose to submit them, do not submit originals. Please limit your nomination packet to three 8.5" x 11" pages of supplemental materials.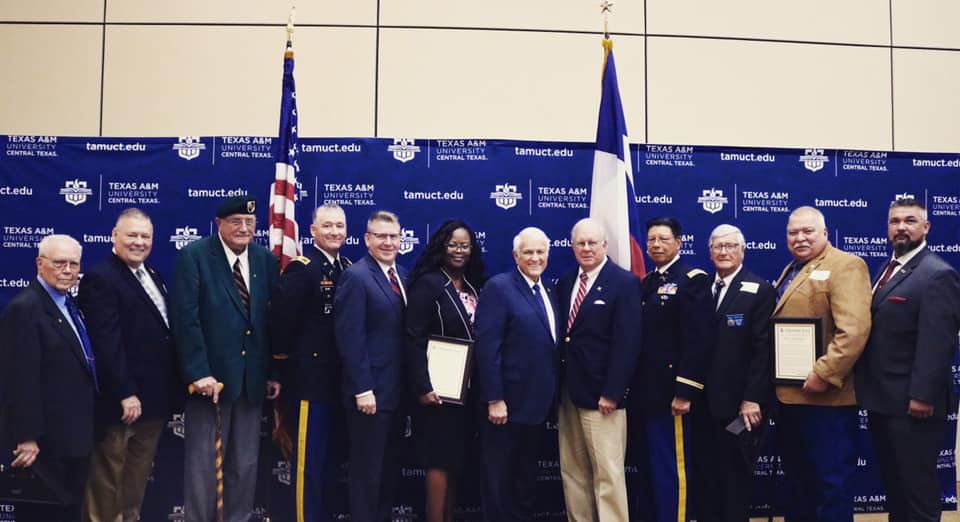 2019 TX-31 Congressional Veteran Commendation Award Recipients
Walter Brown - U.S. Army
Tony Dale - U.S. Army
Daniel Elswick - U.S. Army
K.C. Hawkins - U.S. Army
Edward LeBlanc - U.S. Army
John T. Potts, Jr. - U.S. Air Force
Hugh D. Shine - U.S. Army
William Simmons - U.S. Army
Anthony J. Skubi III - U.S. Army
John M.Sykes, Jr. - U.S. Army
Harlan E. "Rip" VanWinkle - U.S. Army
2018 TX-31 Congressional Veteran Commendation Award Recipients
Cynthia E. Davis - U.S. Navy     
Adrienne Evans-Quickley - U.S. Army
Bill Dean - U.S. Army      
Jackeline Fountain - U.S. Army  
Terry Fountain - U.S. Army         
Gonzalo Garza - U.S. Marine Corps           
Jerry L. Kovar - U.S.Marine Corps            
Martin Palmer - U.S. Army Reserve       
W.C. "Pat" Patterson - U.S. Army               
Julian A. Roadman - US Army Air Corps  
William Simmons - U.S. Army
2017 TX-31 Congressional Veteran Commendation Award Recipients
Pete Aranda, Jr. - U.S. Army      
Skip Blancett - U.S. Navy              
Larry Bush - U.S. Marine Corps   
Pat Christ - U.S. Army     
Dennis DeWine - U.S. Army        
Phillip  Duprey - U.S. Army         
James W. Harrell - U.S. Marine Corps
Rufus Honeycutt - U.S. Marine Corps
Barry Richard - U.S. Air Force
Gery Brent Truitt - U.S. Army      
Raul G. Villaronga - U.S. Army  
Will Williams - U.S. Army             
2016 TX-31 Congressional Veteran Commendation Award Recipients
Troy R. Cole, Sr. - U.S. Navy       
Roberto Vasquez - U.S. Marine Corps
GeorgeWhite - U.S. Army           
Robert Halverson - U.S. Army    
Donald Schliesser - U.S. Army    
Otis Evans - U.S.Army              
Pete Taylor - U.S. Army            
Elijah King, Jr.- U.S. Army        
Shirley Stephenson - U.S. Women's Army Corps               
Frank Thompson - U.S. Army   
2015 TX-31 Congressional Veteran Commendation Award Recipients
Albert Campbell - U.S. Army     
Richard Hernandez Sr. - U.S. Army           
Roosevelt Huggins - U.S. Army 
Eula Mae Jett - U.S. Army
Jerri Lynn Jones - U.S. Marine Corps
Guadalupe Lopez - U.S. Army     
Frank Minosky - U.S. Army
Robert Shoemaker - U.S. Army 
Major Stewart - U.S. Air Force
Jim Torres - U.S. Air Force